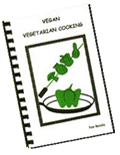 Home Page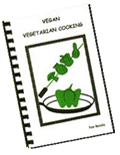 The classic vegetarian cookbook by Pam Rotella,


Vegan Vegetarian Cooking



Click here to order your copy!

A vegetarian classic originally published over ten years ago, "Vegan Vegetarian Cooking" offers all-vegan recipes for everyone from the beginner to the cooking enthusiast. It makes a great starter cookbook for young vegetarians, acquainting the reader with a variety of fresh whole foods. Longtime vegetarians enjoy its unique gourmet recipes. Most ingredients lists are short and include a healthy selection of fruits, vegetables, nuts, seeds, and other whole foods easily found in any grocery store. Recipes are free of meat, dairy products, eggs, and refined sugar. None of the recipes include soy. (Click here for the book's corrections page.)

Think Green - Vegan and vegetarian diets are better for the environment than a meat-based diet. It's the earth-friendly choice!

Holiday recipes - "Vegan Vegetarian Cooking" includes vegan recipes for Thanksgiving dinner, such as a baked chick pea loaf to replace the turkey, bread stuffing with a colorful spice blend, fresh cranberry sauce, and a pumpkin pie sweetened with yams instead of refined sugar. The pie's crust is made with olive oil, rich in Omega-9 fatty acids (a heart-healthy fat), instead of trans fats!

Order now! - The price is only $9.95 plus S&H. Click here to order your copy! Retailers can also find wholesale information on the Orders page.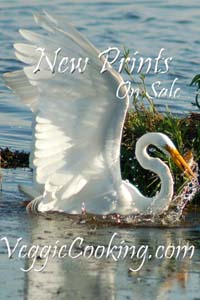 Beautiful wildlife prints featuring
birds of Horicon Marsh

Animal lovers adore these portraits of birds from Horicon Marsh, captured in 10"x15" prints with rich color and amazing detail:

Birds of Horicon Marsh (a sampler)

Great Egrets | Blue Herons | Coots | Pelicans

Other short galleries (not from Horicon): Birds | Turtles

Current feature: This beautiful egret pulls a fish from the water with its long wings fully extended. Order now for only $39, shipping included!